Department of Design
・

Urban Design Course

・

Media Design Course
To be a designer who creates new lifestyles.
This is the age where design leads lifestyles. in this 21st century, as we reconsider the style of mass production and mass consumption, demands are rising for creation of new value through design. In the Department of Design, we have prepared a wealth of practical training courses from the first year. Based on extensive"hands-on education," through detailed instruction that matches the capabilities of each individual student and experiences in making works, we will cultivate designers for the new age.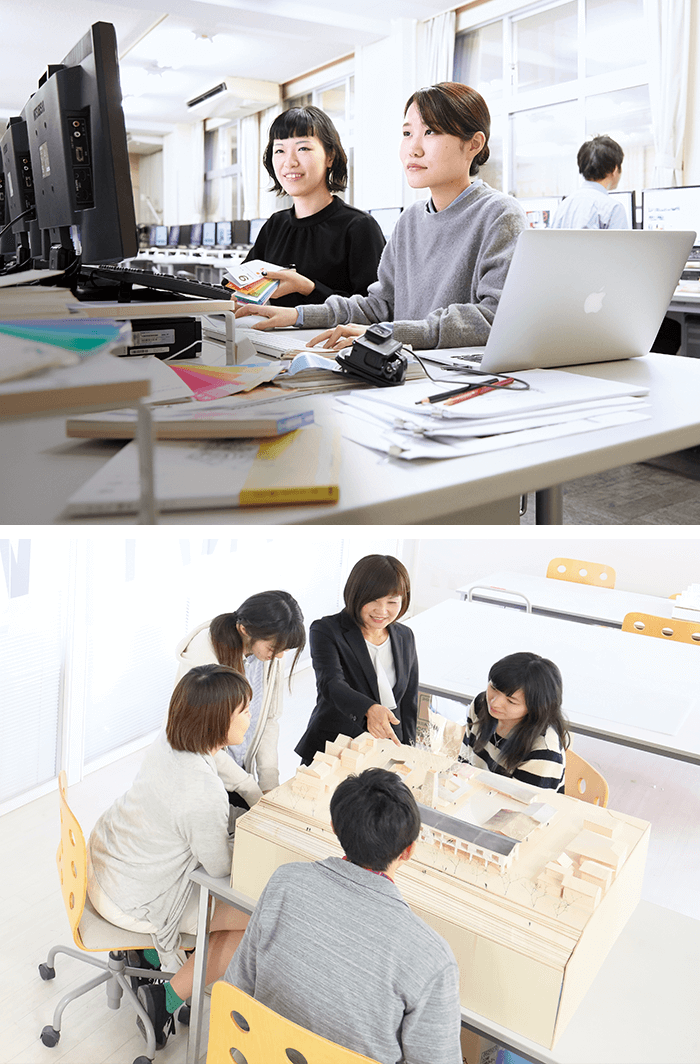 Department of Design Key Points
01

In the first year, students will have fun acquiring different abilities by creating designs with an extensive "hands-on" curriculum.

02

A menu of six model courses are available in the second half of the first year from which students can choose the image of their future self according to each individual's hopes and abilities, in order to create a meaningful student life by relying on a route map for learning.

03

F's Design Studio is a practical learning environment in which students can gain real design work experience at FUT together with professionals. The faculty made up of top designers in each field is amazing!
Learn about the environment, landscape, Urban design, architecture, interior, and transportation to create livable, beautiful, and environment-friendly cities.
Urban Design Course
Students can learn techniques for the total planning and design of our living environment-from large-scale infrastructure, such as cities, streetscapes, transportation, and architecture, to that which is familiar, such as housing, interiors, furniture, and household products. Master perspectives on sustainable urban development, as well as product planning and tourism that can uncover the hidden charms of a region by acquiring design methods to create livable and beautiful environments. This course will train designers and architects that can propose suitable urban values for the 21st century.
This course will shape designers and creators that have been trained in graphics, Web, video, and products, from product planning to advertising production.
Media Design Course
We find a lot of our information from various types of media every day, including magazines, advertising, television, and the Internet. The production of information contents such as this is glamorous and exciting work. This course will train creators to take an active role on the frontlines of media, including graphic design, Web, and video.