Department of Mechanical Engineering
・

Mechanical Systems Course

・

Vehicle Systems Course
Acquire "monozukuri" capabilities that can accommodate the latest technologies,in the field of mechanical engineering, which is the foundation of all industries.
Mechanical engineering is the field of study entrusted with the mission of supporting civilized society where people can live with a sense of security. Mechanical engineering is involved in human activities such as production, transportation and communications. FUT's Department of Mechanical Engineering gathers together people who have an inquiring mind and high interest in "monozukuri," the art, science and craft of making things, and who are able to apply this strong curiosity. We will cultivate engineers who can take the initiative in tackling and answering the most advanced issues.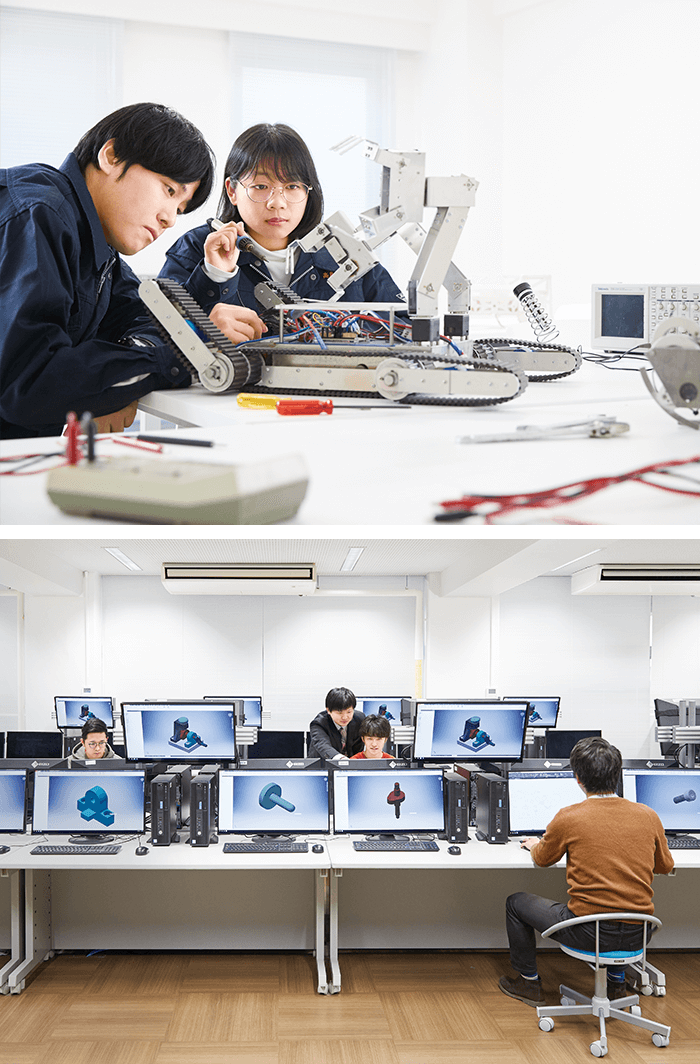 Department of Mechanical Engineering Key Points
01

Students can become engineers with a broad range of knowledge, from development to manufacturing.

02

Students can learn the latest technologies concerning robots, which will be at the forefront of the next generation.

03

Students can learn about automotive engineering from the perspective of environmental issues and depletion of oil resources.
Master the basics of all fields of industry necessary to design things in the real world.
Mechanical Systems Course
Students study areas especially at the core of mechanical engineering from perspectives including energy conservation, global environment,health, and IT, and acquire knowledge of the basics of design, which can be applied in a broad range of areas. Students will acquire skills that can be utilized in the field of industry.
Learn the fundamentals of making future cars based on mechanical engineering.
Vehicle Systems Course
The automobile industry is one of Japan's leading industries. Focus is placed on having students acquire the specialized knowledge and skills needed to work in innovative areas where next-generation automobiles with state-of-the-art technologies are appearing.